GoodWork Staffing is a full-service staffing firm that provides businesses with top talent and custom tailored staffing strategies.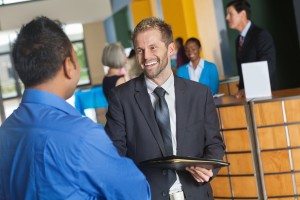 Widely respected as a diversity vendor, we offer our clients the convenience of utilizing one source for staffing temporary, temp-to-hire and direct hire placements, as well as executive recruiting, on-site management and payroll services. Our specializations include administrative/clerical, customer service, construction, and light industrial and retail services.
A division of Goodwill Industries of the Southern Piedmont, GoodWork Staffing embraces Goodwill's mission of helping motivated people gain family-sustaining employment. This design comes to life as we carefully match the right candidate with the right opportunity and service our business clients with the highest degree of professionalism and effectiveness.
Our Services
GoodWork Staffing specializes in providing industrial, clerical, and management employees to a wide variety of industries. We offer temporary, temp-to-hire, executive recruiting, outsourcing, direct hire, on-site management, and payroll services.
Our services are particularly effective for businesses that face seasonal or peak production requirements, customized recruiting, screening and training requirements and pressure to reduce costs.
We maintain an experienced, dedicated team that is at your service 24-hours a day. We are committed to recruiting and staffing high-caliber, temporary and temp-to-hire employees. At GoodWork Staffing, we understand the staffing challenges that you face on a daily basis and take pride in offering customized services to provide proven and reliable talent.
Employment Staffing
GoodWork Staffing allows you to focus on your core business while our knowledgeable recruiters work to find you the best individual for the position. Our search for the best available employees is an ongoing process that carefully adjusts to the constant changes in the marketplace and applicant pool.

As a division of Goodwill Industries of the Southern Piedmont, GoodWork Staffing has the ability to draw potential employees from Goodwill's vast network of regional industry contacts and resources, including four job centers throughout the greater Charlotte area to identify qualified candidates.
In addition, GoodWork Staffing's recruiting program encompasses a variety of methods for identifying talented candidates, including:
Job Fairs
Job Boards (such as Craigslist and CareerBuilder)
Referral programs
Partnerships with area colleges, community centers, non-profit organizations and government agencies
Partnerships with area companies that have experienced layoffs
Graduates of our Occupational Skills Training programs
Employee Selection
To ensure we match the right employee to the right job opportunity, we utilize a variety of resources to screen and select the appropriate candidate. Some of those resources are listed below. We will also accommodate any special selection criteria that your company may require.
Employee Screening and Testing
GoodWork Staffing uses stringent guidelines to screen prospective employees so that we can deliver a high-quality, stable workforce to you. To ensure an accurate fit for your workforce criteria, we use eEmpACT Staffing Software to evaluate a prospective employee's level of knowledge, capabilities and skills at the onset of the application process. When our clients provide us with personalized company requirements, we will replicate all the screening, testing, orientation, safety and hiring processes that are mandated.
Extensive Employee Interviews
In-depth, personal interviews are conducted with each applicant to assess his or her educational background, work history, career goals and individual motivations.
Employee Testing & Training
Prove-It Skills Assessment Testing allows us to test and verify each job seeker's skills as stated on their application. This same testing software also enables us to provide training for applicants who wish to improve their skills. Additional testing can be provided to meet your company's needs. If your company is using a specific set of tests as part of the screening process, GoodWork Staffing can administer these tests as part of our process for qualifying employees for your assignments.
Drug Screening and Background Checks
GoodWork Staffing is versatile in our abilities to provide custom screening strategies to pre-screen candidates, ensuring they are of the best quality and capable of meeting the requirements of each client. Drug testing and nationwide background screening is available upon request.
New Hire Orientation
New employee orientations are held weekly to explain our policies and procedures and details of the positions to be filled. We also explain the unique relationship between GoodWork Staffing, our clients, and the employee to avoid co-employment issues.
Safety
GoodWork Staffing operates at the highest level of safety and expects the same of our employees. Our company requires a strong operational commitment to risk management and safety to give our customers peace of mind.
As a business client, you have access to the resources developed and implemented by our extensively trained risk management staff. They are available to answer your questions about hiring processes, reporting requirements and handling accidents, as well as other areas of risk management.
Safety practices are critical to our hiring process. Safety instruction and training is provided to all prospective employees once they have completed the application process.
Our risk management program standards include the following basic principles:
Safety orientations are mandatory for all new employees.
GoodWork Staffing promotes a drug-free work place.
If an accident occurs, a GoodWork Staffing representative will visit the site to conduct an investigation and handle reporting requirements.
If an employee requires medical attention, the GoodWork representative will transport them to the nearest medical facility.
Incentives are regularly offered to employees to encourage a safe work place.