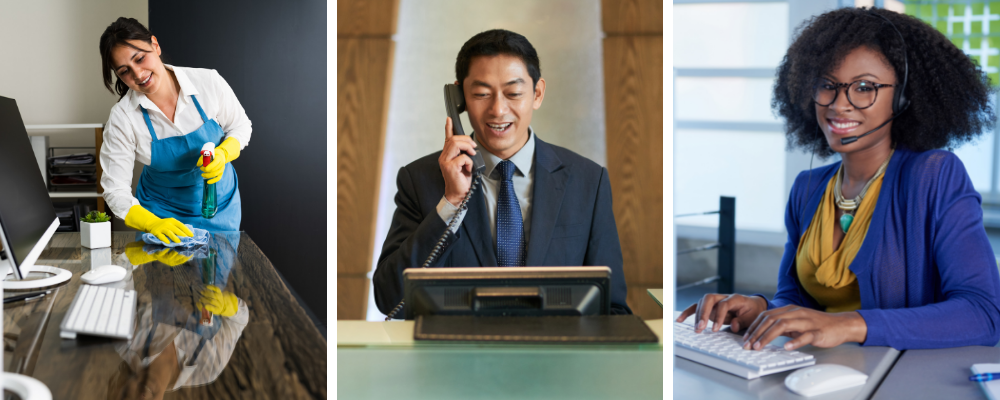 GoodWork Staffing proudly offers staffing services in the various specialty areas, including light industrial, retail, administrative/clerical, customer service and professional.
Light Industrial Staffing
We can keep your manufacturing, production or distribution facility operating at peak capacity with competent, reliable personnel across multiple shifts whether you need workforce scalability or peak-season support. We maintain a large pool of screened candidates available to meet short and long-term projects.
Positions include, but are not limited to:
| | |
| --- | --- |
| Production Personnel | Assembly Line Personnel |
| Machine Operators | Forklift Operators |
| Inspectors | Packers |
| Inventory Control Personnel | Material Handlers |
| Shipping Personnel | Receiving Personnel |
| Order Pullers | Labelers |
| On-Site Supervisors | Janitorial |
| Warehouse Personnel | Ticketing |
Administrative/Clerical Staffing
Clerical and administrative staff members are at the heart of many organizations. GoodWork Staffing has a talented network of qualified, successful clerical and administrative candidates who are ready to make an immediate impact on your organization.
Positions include, but are not limited to:
| | |
| --- | --- |
| Administrative Assistants |   Payroll Clerks |
| File Clerks | Data Entry |
| Receptionists | General Office Assistants |
Customer Service and Professional Staffing
We know that customer service departments are vital to the continued growth, business partnerships and client satisfaction that make businesses reputable. With our specialized staffing services, we can help ensure your customer service staffing needs are always met. 
Positions include, but are not limited to:
| | |
| --- | --- |
| Customer Service Reps |    Executive Assistants    |
| General Managers | Executive Managers |
| Human Resource Managers | Accountants |